Psychotherapy
Dr. Barone provides child and family psychotherapy for issues such as Attention Deficit/Hyperactivity Disorder, and other behavior problems of children and adolescents.  Children and adolescent may also experience depression and anxiety.  Depression in children may be mild, moderate or severe. Parents may see an increase in irritability, and/or withdrawal from activities. There may be a drop in grades and the use of alcohol or drugs.  It is essential that an expert in developmental psychology evaluate the child or teen, as some behaviors parents may consider "normal stages" are actually signs of depression.
Depression is treatable in young people, and shows good results with a combination of individual behavioral and family therapy.  The first step is a complete bio-psycho-social evaluation.  Referrals may be made for medical care.  Depending on the child's age, a specific  course of psychotherapy will be recommended which will be tailored to the needs of the child and family. Dr. Barone is an expert at using developmentally suitable play and behavioral interventions  in treating childhood depression and anxiety.
Childhood anxiety may be  displayed as extreme fear, excessive worry, dread or preoccupation with the future. There may be a  refusal to leave the parents' side, attend school or sleep alone.  Anxiety in children can become severe and debilitating  if not treated as soon as it is noted.   Treatment involves behavioral and supportive therapy and requires the parents involvement.  Childhood anxiety responds to therapy which is targeted to the developmental needs of the young person.
Child and family psychotherapy involves Dr. Barone meeting with the parent(s) to gather information regarding the child's development and functioning in areas such as family, school, friendships, and community as well as the parents' reasons for seeking therapy. Psychotherapy for children will always involve the parents or guardians; the degree and nature of parental involvement will depend on the age of the child. For example, parents will have a different role in the treatment of a five year-old than in the treatment of a seventeen year-old.
The goal of  treatment is improving daily functioning and adjustment.   A treatment plan will be developed with parents and the child to address the goals and objectives of treatment and the best way to achieve these.  Hourly sessions may be scheduled weekly or bi-weekly and typically involve 6-12 meetings. Psychological research has shown behavioral therapy as the most effective type of therapy for children and adolescents.  It is especially effective for Attention Deficit/ Hyperactivity Disorder.
Family Therapy
Are you concerned about your pre-teenager's  new friends or a recent drop in school grades?  Has he been acting more distant lately,  staying on the computer for hours at a time?  Do you think your teen might be experimenting with drugs or alcohol?  Are you aware there are legal products purchased over the counter that produce a "high" similar to marijuana and cocaine?
Are you unsure how to talk to your teenager or pre-teen about sex?   Does an adult in the home have a drinking,  drug  or anger problem that seems to be getting worse every year?  Are you and your partner talking about separating, or not talking at all?   Is there a new baby in the home?  Do the children in your home fight  "like cats and dogs"?  Is someone being bullied at school?  Does a child or adult in your family seem sad?
These are many reasons why  family therapy is the right choice when one or both parents sense,  or clearly see,  that a member of the family seems to be stressed out.   Communication patterns in the family may  need to be fine tuned.  That is,  families can fall into patterns of blaming and shaming each other,  and children often don't ask  for help until they are completely overwhelmed.
Ordinary events in life, such as a death, birth, a marriage or divorce can put stress on the family and one or more family members can use non productive ways to cope such as anger, withdrawal or substance use.  When communication between family members is frustrating,  it is time to seek professional help.  Communication patters are learned behaviors.  Family therapy can help members learn more productive ways of communicating their needs.  That is an important first step in getting those needs met.
Child Testing and Evaluation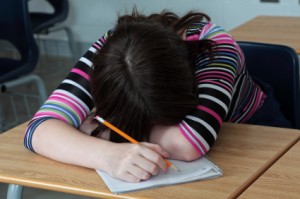 Are you wondering if your child is academically gifted?  Is she telling you she is  "Bored" in school, or does he complain that the work is "Baby work, too easy", or "Too hard"?   Do you think your child may have a learning disorder?  Educational and I.Q.  testing can determine the answers to these questions.
Has your public school advised you there is a long waiting period before your child can be tested by the school system?   This wait could take years, and in the meantime,  you child may struggle in school,  become "turned off" to learning and become a behavior problem.  
Dr. Barone can provide your child a complete learning/educational assessment and have results to you in a matter of  weeks instead of years.  These results can then be presented to your child's school for appropriate educational placement.
Federal laws enacted in the past thirty five years mandate that every school-aged child has a right to a free and appropriate public education that meets her learning needs.   Whether your child is a slow learner,  has a specific learning problem,  seems advanced in one or more  area,  or is struggling with any academic area,  I.Q.  testing can guide you as an effective advocate for your child to receive an appropriate education.